The winner of Round 1 of the Extreme SAS Makeover Event has been announced! Drumroll please…….
#181 won for this, our brandnew Stone Accents Studio, site design:
#181 is our very own Sherah from SKrapper Digitals here at SAS. Being a Designer, winning a years worth of PU isn't really a deal, LOL, so she gets a big increase in her commission. Congratulations Sherah!!!!
We do, however, want to acknowledge another contestant, #161. #161 did some fabulous work as well and her entries got the #2 and the #3 winning spots. #161 is the superb Tammara! Here are her entries: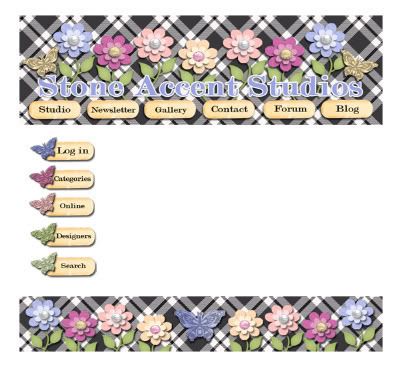 Tammara, we absolutely love your work! And for that, we think you deserve the years worth of free PU products! Congratulations!!!
Great Big Thank You's to everyone who participated! This was not an easy one to decide! You all did a spectacular job! Keep watching to find out who won Round 2: Win-A-Spot on the SAS CT!