Hiya! I bet you all thought I forgot about the Mega freebies this month, didn't ya?! All I can say is….SUMMER!!! We finally have some summer in my part of the world (New England) after enduring a month long rain-fest!! Ahhhhh, summer!! I love summer!! Picnics, BBQ's, swimming, suntans, parties, and, of course, THE BEACH!!! Which leads me to this months Freebies!
Because I made you wait all month for the goods, I have not one, but TWO freebies for you today!! The first freebie is a Numbers/Punctuation Set that coordinates with the Alpha Set I made for the July '09 SAS Mega, Beach Blanket Bingo!! What's that?! You don't have the Mega yet?!!!! Well, what are you waiting for?!!! Get on over to the SAS Store to pick it up… it's on SALE for 30% off!!! But, you better hurry! It's only on SALE for the month of July, so you have a few more days to treat yourself!! Here's a preview of the freebie: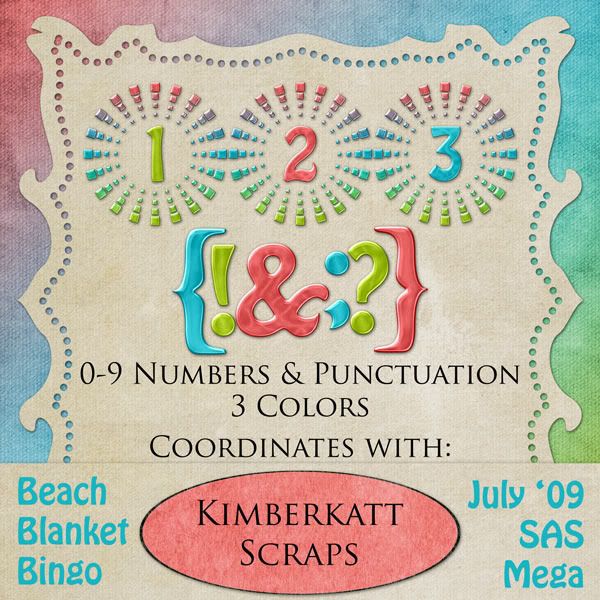 DOWNLOAD PINK SET HERE
DOWNLOAD BLUE SET HERE
DOWNLOAD GREEN SET HERE
Next up is a set of Six Wordarts, made using pieces of the fabulous Beach Blanket Bingo! I think they turned out pretty cute, if I do say so myself! hehehe…
Well folks, I hope you are all enjoying your Summer and having lots of fun! I know I am! Enjoy the freebies, and I'll see you all next month with another fantastic Mega kit!!