It's a new month, which means brand new challenges!!! All of the August Challenges have been posted! This month the ladies were feeling a bit "French" and have made you all an incredible Mega Kit called "Ooh La La". Each Mini kit Posting Bonus is another portion of the Mega kit! Do one challenge, collect a nice mini. Do more challenges, and you will quickly have a gorgeous Mega kit to add to your collection!! Here's what you can earn yourself this month:
ATC Challenge with Heidi:
Let's do Nature's Bounty this month and celebrate the fresh food of August. If you don't have a garden, take photos of your neighbor's, or a farmstand, or even the grocery store produce!
Clutter It Challenge with DarleneH:
This challenge will run through August 31. I've provided a basic template to inspire and challenge you. You may do whatever you like to it, but you must alter it somehow – flip it, rotate it, clutter it, recolor it or do whatever you want. You decide what elements to add to transform my basic template into YOUR own page.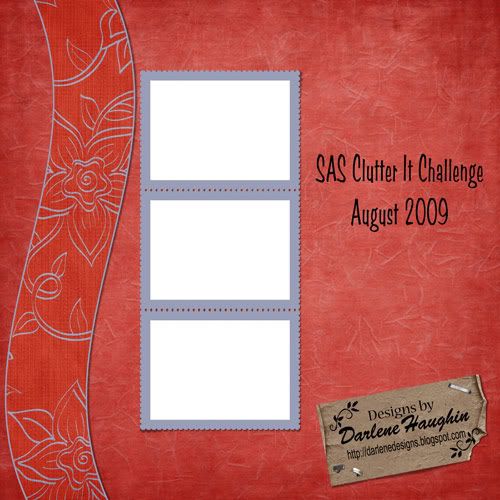 Desktop Challenge with mITSYBELLE(Jeanette):
Do you struggle to find a nice background image for your computer? One that also has a calendar on it? Jeanette will supply you with a kit & your challenge is to use ALL of the pieces in the kit to make your Desktop!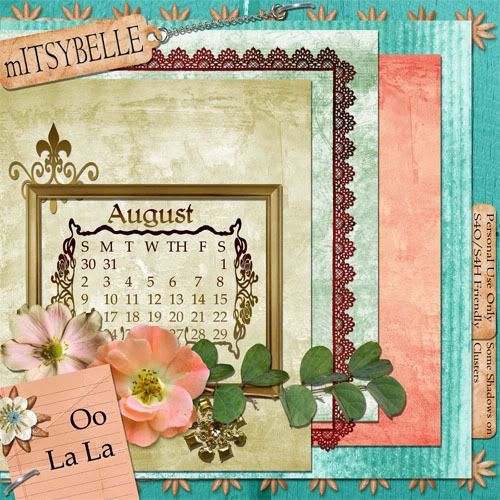 Font Challenge with Wildcat Designs(Tracy):
Tracy has chosen the font Back To School for this months challenge! Make a layout using this font to earn your posting bonus!
Freestyle Challenge with Piggyscraps(Toiny):
This month let "The Artist Come Out" Now this can mean a scrap of your favorite artist; whether that be Picasso, Monet or junior. It can mean an artistic scrap, let your wild side come out, go beyond the bounds of a normal LO. Paint, scribble or doodle on your paper, even your photo's. Anything goes in this challenge… except "just" a paper, frame, element(s) & journal. Give it your personal touch.
Inspiration Challenge with SKrapper Digitals(Sherah):
I've got a challenge for you this month using the following image as an example to inspire your layouts: How does this image inspire you?
Journaling Challenge with Ambowife Designs(Tracy):
Welcome to the journaling challenge for August, this month I would like you to do a page with journaling about something to do with Family Traditions. Anything to do with that theme, it could be that you have a tradition of having fish n chip night on Fridays, or a get together every Christmas, or the tradition you follow for a holiday, or anything.
Life's Musical Moments with Monika Designs & Darlingina:
I would like you to think of one of your favorite songs that includes the word "day" or "night", a day of the week (M-F) or one of the four seasons (Spring, Summer, Winter, Fall). Find that perfect photo and create a layout with this in mind. Be sure to include a line or two from the song and the artist if you know it.
Newsletter Challenge with Cathy Cher & Kimberkatt:
As you may or may not know, SAS is having it's 2 year Birthday in September!!! Whooohooooo! There's going to be lots & lots of fun stuff to do during the annual BIRTHDAY BASH CELEBRATION in September! Because your layouts are featured the month after the challenge, we need to see some BIRTHDAY layouts this month for our BIRTHDAY BASH Newsletters!!!
My SAS-y Self Challenge with Ellen Massey:
The challenge this month is to "Scrap y
our favorite activity or memory of fun things you did or your children did in school " This could be any thing from getting ready for the beginning of school, a favorite field trip, maybe a favorite program or activity in school. The ideas are unlimited on this challenge for you to let your imagination run wild on this one. I can not wait to see what all you can come up with this idea. Most of all have fun with it.
Quote Challenge with mITSYBELLE(Jeanette):
This month I would like you to do a layout using one of the following 'Countryside' Quotes:
"It is only in the country that we can get to know a person or a book." ~Cyril Connolly
"When I am in the country I wish to vegetate like the country." ~William Hazlitt
"When I go out into the countryside and see the sun and the green and everything flowering, I say to myself Yes indeed, all that belongs to me!" Henri Rousseau
Template Challenge with Kimberkatt:
Rules are simple, I will provide you with a template, and your job is to use the template to create a layout! You can use the template as is, change it around, flip it, rotate it, crop it, add to it, take away from it, whatever you wish to do!
Use Those Elements Challenge with LIGHTningBug Creations(Carmen):
I will be giving you a list of ingredients to do your page.You must complete the list of ingredients on your page, but you can still add extra stuff, if you want too.
We hope you enjoy our Challenges this month! Can't wait to see what you all create! Happy Scrapping!