Hello All!
I woke up this morning and even though the news was all in German, still so foreign to my ear, I realized today is
09.09.09
. How cool is that? Nine has always been a favorite number of mine. Maybe because as a child in Holland I always strove to get "9's" on my report cards. In Holland 9 = A… and A = money, at least in my family.
I thought it would be fun to celebrate 09.09.09, a little
special at SAS today
. So, a super special for you! You can get all
NINE
of these fabulous, best-selling kits for only
$9.99 today
!!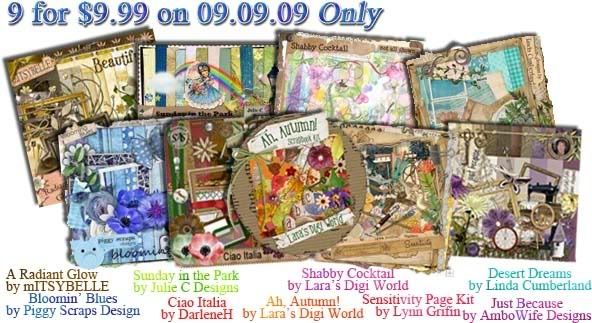 All Nine kits are listed in our special 9 for $9.99 category so you can take a closer look! To get all 9 for $9.99 just buy the coupon…. the kits are then FREE.
Sensitivity by Lynn Griffin



Just Because by Ambowife Designs



A Radiant Glow by mITSYBELLE



Desert Dreams by Linda Cumberland



Blooming Blues by Piggyscraps



Shabby Cocktail by Lara's Digi World



Ciao Italia by Darlene Haughin



Sunday in the Park by Julie Cohen



Ah, Autumn by Lara's Digi World
And if you get our 9 for $9.99 special… don't forget to add our FWP to your cart as well! Our Free With Purchase (FWP) is now free after spending only $5 anywhere in our store! Including sale items. This week, and this week only, you can receive Denim & Daisy by Scrappy Cocoa.
While you're in the Store why not check out the rest of Scrappy Cocoa's Store.
Smooches,
Toiny
Stone Accents Studio Owner