Wow!  Lots to talk about today, so let's get right to it!!
We have a brandnew March10 CU Collab Grab Bag from theStudio Designers!  9 Full-size products from 10 fabulous designers PLUS one BONUS product, just because!  All  wrapped up together in a neat little bundle for you!  And, ON SALE for a whopping 75% off!! At $8.99, this bag is a steal at less than $1 per product!!
Next up, we have our brandnew March10 Mega Kit, All the Dirt! Perfect for those romping, dirty little boys or those not-so-dainty little girls!!  This kit is jam-packed with such goodies as: trucks, planes, bugs, binoculars,  and mud all in the perfect boy colors of blue, green and DIRT!  It's all about the dirt here people! 
  For the month of March ONLY you can get this perfectly dirty kit with 62 papers, 120 elements and a wonderful Dirty Upper Alpha ON SALE for just $6.70!! Check it out:
And, now that all of that is out of the way, I have to tell you all about our FANTABULOUS NEW DESIGNERS that have been sooo busy jamming our store full of fantastic products for all of you!!  Please welcome Viky Designs & Nibbles Skribbles to theStudio!!  We are just so happy to have them joining our team!!  Take a look at some of their wonderful new products to grace the store:
VIKY DESIGNS:
NIBBLES SKRIBBLES:
Okay, I suppose if you got through all of that, you deserve a reward!  So, here you go, that freebie I promised you!!  Have a wonderful day everyone!!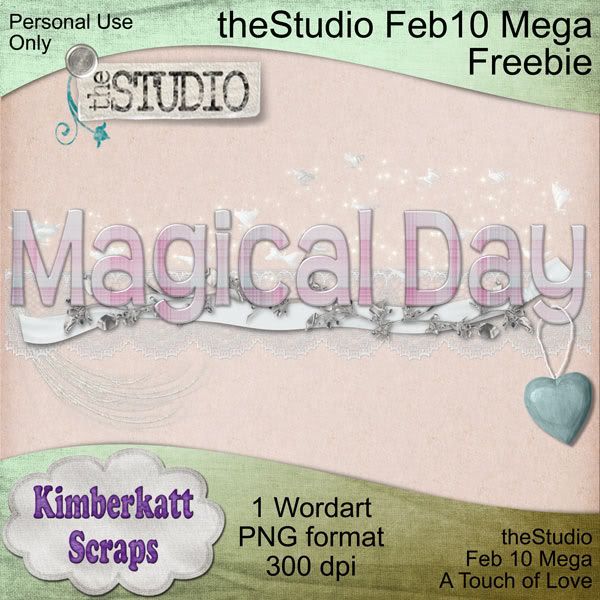 P.S. You can get the Feb10 Mega, A Touch of Love FREE with any $10 purchase in theStudio store for the month of March ONLY!!