12-18-2012, 01:20 PM
theStudio Party Girl

Join Date: Aug 2007

Location: Massachusetts

Posts: 9,698
Dec 16-31 Featured Designer - JenC Designs!
---
Welcome to another round of the Featured Designer Challenge! I hope you guys are ready to play!
~ JENC DESIGNS~
Jen, the talent behind
JenC Designs
is our next FEATURED DESIGNER! I have been a fan of Jen's designs way before she became a designer here at theStudio, so I was extremely excited when she joined the team! Jen can put together the most perfect scrap kits, full of everything you could possibly need to make one killer page! Her eye for color is fantastic and I just love the paper-scrap feel of her kits! But, I'll be honest, her templates are what drew me to her designs and kept me coming back for more! Jen has the best layout design templates, they are super easy to use, and there is no way you can't make a fabulous page using them! I'm squealing with delight about this challenge because not only does Jen have an adorable addon freebie from her newest kit, Peace, Love and Joy, but she has a template freebie for all of us, too!! Yay!
** Please don't be concerned about purchasing the kit, if you are the winner of the challenge, a replacement coupon will be issued!
**
Enjoy 40% off on all JenC Designs Products now through Dec 31st!!
**BONUS** Jen has a Daily Download happening on her blog from Dec 17-31!! Make sure you grab all those lovely little goodies while you can!
Introducing: Peace, Love and Joy by JenC Designs
ON SALE: 40% off thru 12/31!!
Peace, Love and Joy Coordinates & Bundle all ON SALE for 40-50% off through Dec 31st!!
- Rules & Download -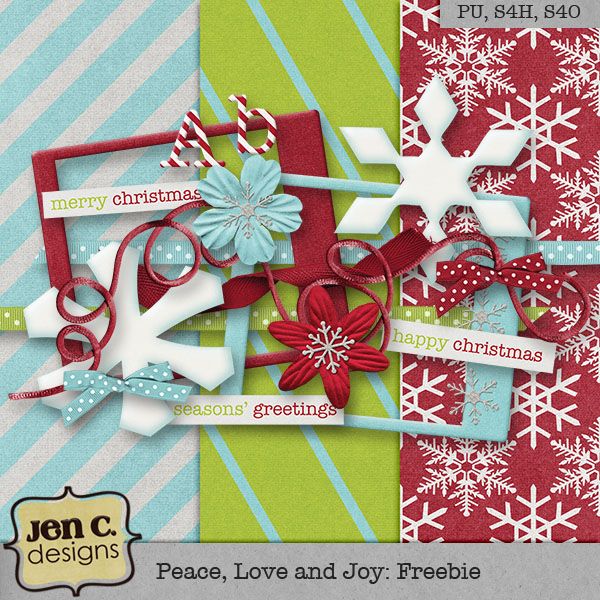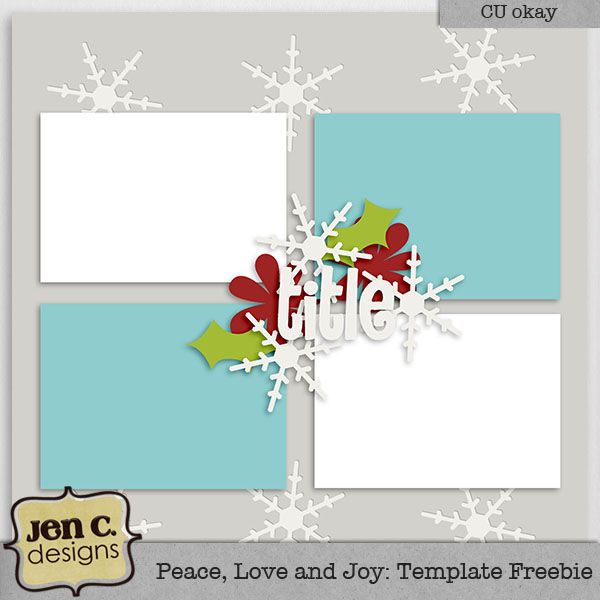 Download
the addon HERE
Download
the template HERE
Create a layout using ONLY this freebie kit & template, you do NOT have to use every piece on your page (templates/wordart are allowed, but no other papers/elements please)
Upload your Layout to the Featured Designer Gallery
Come back here to this thread & post your link
At the end of the two weeks ONE participant will be chosen at random to WIN Peace, Love and Joy Kit & Template Set by JenC Designs!!
Good luck everyone!
__________________
Kimberly
*avatar created by Elaina, aka nightshadow (
her!)