Making a Blinkie in PSE6© 2008 ~ mITSYBELLE
The images contained in this Tutorial are the property of mITSYBELLE. This Tutorial is for personal and commercial use. No copying or uploading to another website, blog etc is permitted without the direct permission of mITYSBELLE
I made this Tutorial last year and thought it may be useful for the contestants in the Blinkie competition.
These are very simple instructions for making a basic blinkie. If you want a more complex blinkie the principles are still the same but you will need more layers. These instructions should work for other programmes also.
THE USUAL SIZE OF A BLINKIE IS 150 X 50 PIXELS
Decide on the basic look of your blinkie, here it will be red with the word SAMPLE flashing three times and then moving off to the right hand side, each new layer is a blink. Blinkies work much the same as cartoons or those little books you made as children which you flicked through and it looked like it was moving, each layer in the moving section should be slightly different from the previous.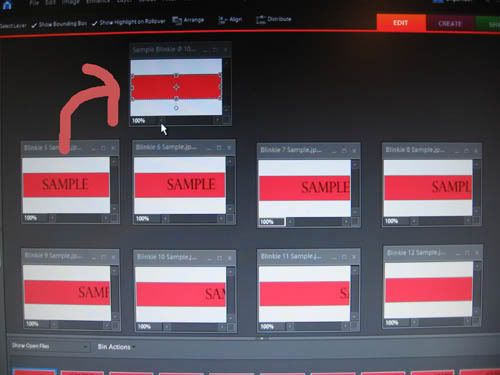 Arrange all the different shots into one file by layering from 1 on the bottom to 12 (or however many you have) on the top. (OF COURSE IF YOU WANT TO MAKE THEM ALL IN ONE FILE TO START WITH YOU SHOULD, REMEMBER THIS IS JUST FOR BEGINNERS AND THOSE THAT DON'T FEEL CONFIDENT ENOUGH TO DO IT ALL IN ONE FILE)
Go to file and go down to 'Save for Web'.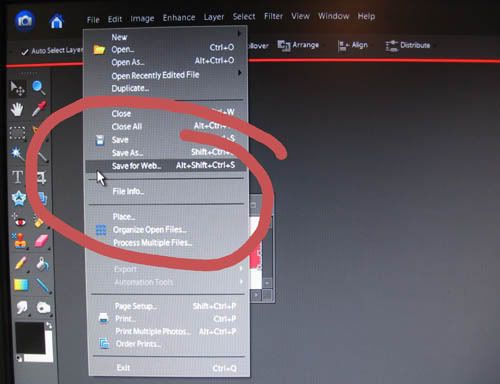 On the right hand side of this page you will see a box named 'animate', check this.
Now go down to the bottom and decide on the timing you want, to the left of this (under the main picture) you will see a little world, click this to preview your timing.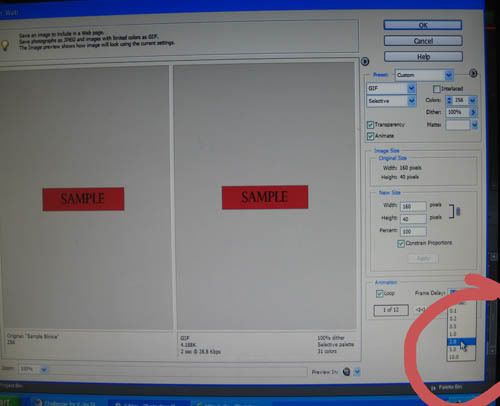 All that's left to do now is save your creation and then you can upload to photobucket etc.
Remember to also save your file as a PSD (layered file) just in case you wish to make any changes to it.