Hi ladies! I am having a another Sunday night Speedscrap at 8 PM EST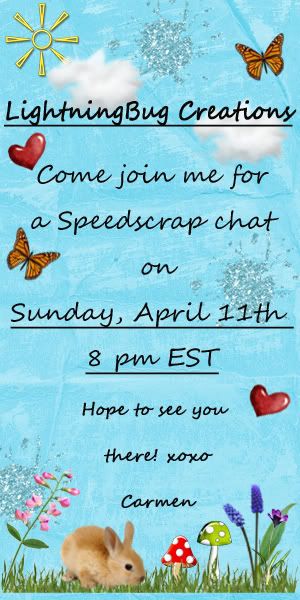 hope to see you there!!!! xoxo Carmen
here is what you get for visiting
here are the steps for tonight's scrap
step1- 1 beautiful background paper
step2- 1 frame used 3 times placed vertically on the left of your page(two portrait, one landscape)
step3- 2 doodles/flourishes sticking out of middle frame(if you don't have a flourish you can use a long stem flower or foliage or make one with a paper)
step4- 3 pretty ribbons or pieces of paper hanging from top of page over and under the 3 frames.
step5-foliage- use 2 or 3 times and place it peeking out from behind the frames
step5-randomly place 5 or 6 flowers around the frames
step6-place a bow on top of the top frame over the ribbons.
step7-use the same photo in all 3 frames, but
crop it differently.(use different parts of the photo)
step8-put a big title on the right side of page.
step9- place 3 flying insects around the page