Tracy's Speed Scrap earlier this week was a huge success and we're ready to have some more speed scrapping fun! I will be hosting the next speed scrap, beginning at 7:00 a.m. Pacific Time (in the US) but I'm not going to hold you to the one-hour guideline. As long as you follow the steps and get your layout posted in the
Speed Scrap Chat Gallery
BEFORE 12:00 noon on Christmas Day (Pacific Time, U.S.),
AND post your link here in this thread
, you will get my Ooh-La-La minikit for free as a prize! This mini includes a bonus Quick Page.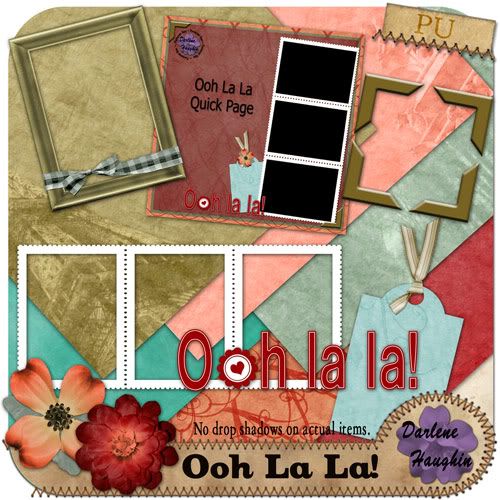 I will post steps (one at a time) on making your layout over an hour period and you follow the steps then post your result in the Speed Scrap Gallery. This way the steps remain in the thread and anyone can join in at any stage of the speed scrap to play along.
You can ask questions in the thread if you get confused by a step etc. I will be online the first hour to answer questions and post each step. After one hour you can still post questions if you have any, and I'll check online throughout the day.
To play along, you follow the steps of the speed scrap, post your layout in the
speed scrap gallery
AND post the link to your layout in the speed scrap thread
. You usually have the hour of the chat to do your layout, and another hour afterwards to catch up or finish it up and post (that's the speed part LOL) but since our chat room is not quite up-and-ready, you have a little extra time, more than 24 hours if you start when this challenge begins. If you're reading this later in the day, feel free to join in. Just make sure your layout is posted and linked back here by the deadline - noon on Christmas Day (Pacific time) in order to get the free mini-kit.